We are the leading European experts in our field! Laser 2000 is based in the German municipality of Wessling, an area known for its five lakes. Our headquarters are also conveniently located in the conurbation area of Munich. We think globally and act locally. In order to meet the individual market and customer requirements in every country we serve, our contact persons throughout Europe provide you with support directly on site. At our company, we focus on innovation, top quality, and, above all, on encouraging the knowledge, creativity, and enthusiasm of our employees. Our excellent team of qualified natural scientists and ones with doctorate degrees, all of whom have an enormous wealth of experience, help you determine which requirements you should take into account. Our passion for the fascinating world of photons serves as the basis for the way we think and act. In keeping with that, our goal is to achieve the highest level of customer satisfaction and further expand our leading position on the European photonics market in the 'century of photons.'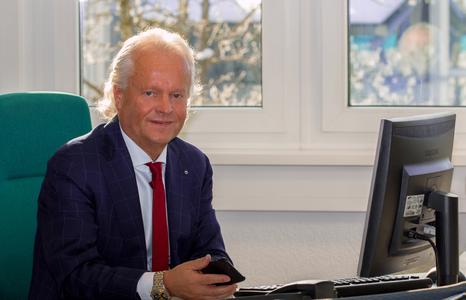 At the beginning of January 2016, the Founder and Managing Director of Laser 2000 GmbH, Armin Luft, was appointed on the strength of his 40 years of experience and expertise gleaned as a pioneer of photonics to the
German Senate of the Economy
– a group of leading figures in business, science, media, and culture, as well as representatives from the fields of politics and diplomacy, who act as independent consultants in politics and economics.
Luft, who studied electrical engineering and helped initiate
"Laser, World of Photonics"
, the world's largest meeting for this sector, will mainly contribute his knowledge from the field of photonics. Photonics will significantly influence the technological and economic landscape of this century, analogous to the way in which electronics shaped the last century. Keeping up with advancements in this field will be crucial to ensuring that Germany remains competitive on the international market.
As a Senator, Armin Luft would like to contribute to the conceptual work for the further development of photonics. The Senate of Economy works in accordance with John F. Kennedy's guiding principle: "Ask not what your country can do for you, ask what you can do for your country." It supports politics through initiatives and practical suggestions, drawing on the expertise of entrepreneurs and executives. Special areas of focus include a sustainable economy, a global social balance, and climate justice.